Climate in Piran

Piran belongs with its sub-mediterranean climate among the warmest areas of Slovenia. There are many sunny days. The yearly average of the them amounts to 2346 hours.

The precipitations are scarce and range between 1000 and 1100 mm per year. The mild winters with temperatures very rarely below zero are characteristic, as well as not too hot summers. Due to that the visitors not able to support the severe heat of the southern parts of Mediterranean in summer, are the most frequent guests.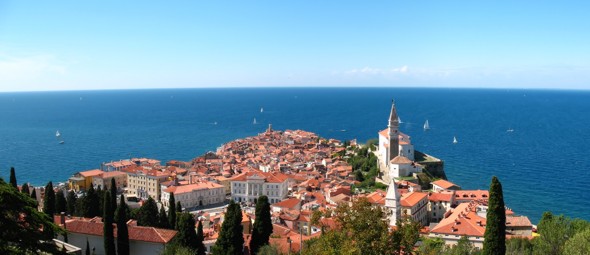 Portorož

Portorož, literally "Port of Roses", is a coastal town in Slovenia and one of the country's largest tourist areas.

Portorož belongs to the coastal municipality of Piran, located in the southwest of the Gulf of Trieste (at the northern-most point of the Adriatic Sea) between the boundaries of Italy to the North and Croatia to the south. The municipality is not so well protected against bora wind, as is near city of Trieste. Thanks to that, Portorose is about 2 degrees cooler on average, with especially colder nights. Surprisingly, the number of day with temperatures below zero is strikingly high - 45, if you compare it with Trieste - Barcola (only 12 per a year). Otherwise, Portorose is slightly drier and has warmer days during the year. It's a quite sunny place with an average 2334 hours of sunshine.

Portorož is home to a marina, casino, and numerous sporting facilities. There is also Portorož International Airport in nearby village Sečovlje.

Portorož was host to the International Physics Olympiad in 1985 and to the European Universities Debating Championships in 2001.

It is the host of the new Euro-Mediterranean University, that was inaugurated on Monday 9 June 2008, in collaboration with universities of the EU, the Middle-East and North Africa (the EU States and the Euro-Mediterranean Basin, from to Turkey to Morocco and including Israel), by Janez Janša, Prime Minister of the Republic of Slovenia, José Manuel Barroso, President of the European Commission, Amr Moussa, Secretary General of the Arab League, and Hans-Gert Pöttering, President of the European Parliament. This university will be fully operational for its first academic year in 2009.

Portorož hosts annual Festival of Slovenian Film (Festival slovenskega filma) with Vesna awards for best festival achievements. The city also hosts (since 1961) a biennial of contemporary art, the International Sculpture Symposium Forma Viva, where artists come to create a work before the public. The works were created together in a sculpture park in the hamlet of Seca (free access).